Products
/ meteorology
RD-08AC GPS Sounding System
Outline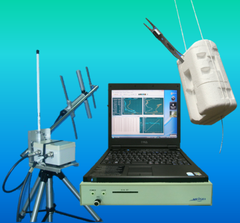 GPS Radiosonde Sounding System RD-08, Full code correlating GPS radiosonde ground station ensures capturing reliable and accurate upper-air weather. This lightweight and compact sounding system is intended for increased portability and conveniences in sounding. Your sounding experiences will be extended more than ever. The corresponding GPS radiosonde, RS-11G carries a temperature sensor and humidity sensor. Pressure is calculated from the GPS altitude measured by single point positioning. Sounding duration lasts 180 minutes, allowing vast stretches of sounding possibilities. Abundant choices of interfaces expand the use of supplemental sensors.
Features
GPS Receiver : RD-08AC
Excellent Design for WMO sounding purpose & Research Purposes
Selected Design intended for sounding under CIMO guide, research purposes.
Sounding Anytime, Anywhere!
A4 size receiver with 2 kg (4.4 lb) weight
110 to 240 VDC power supply for worldwide use
Only 30-minute preparation time with antenna assembly included
Sounding Emergency Proof
Safety function for sudden shut down of PC: audio data reproduction function enables data restoration
GPS Radiosonde : RS-11G
Improved temperature and humidity sensor with highest accuracy for the upper-air soundings
One lithium battery enabling 3 hour sounding approximately and easy operation
GPM by SBAS method GPS positioning
Precise time synchronization between tempera-ture / humidity data and GPS data
High stability of the ETSI certified transmitter (EN 302 054 V1.1.1)
Compact and low-density design, total weight of 85g including batteries, reducing the shocks at the time of falling to the ground
An input to a 16bit A/D 6ch and Serial input con-verter facilitating to connect special sensors; for ECC, CO2, OPC, FLASH, Cloud particle, etc.
Products